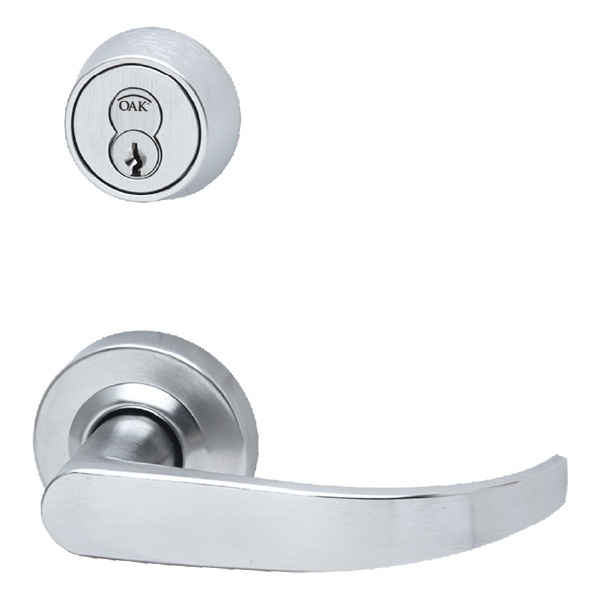 1ML
Lockset
Heavy Duty (Grade 1) lock for Commercial and Industrial use.

Levers and knobs are retained by lever/knob keeper similar to that of cylindrical locksets eliminating screw retaining problems.

Independent lever return springs consistently return levers to horizontal position.

Field reversible handing.

Multiple functions, trim styles and finishes available.

Roses and Full plate escutcheons are snap-on.

Lever and Knob combinations are available.

Uniquely tailored masterkey systems backed extensive industry experienced system design and support.

5 Year Warranty.
Specifications
| | |
| --- | --- |
| Case | Size – 4-5/16" x 6" x 1", Armor Front – 1-¼" x 8" x 7/32" Standard. Handing is field reversible without removing case from door. Self-aligning face for beveled doors |
| Door Thickness | 1-3/8" to 2-1/2″ Thick doors |
| Backsets | 2-3/4" Only |
| Latchbolts | 3/4" throw, UL listed, self-adjusting faceplate |
| Deadbolts | 1" Stainless steel throw |
| Strikes | Curved lip-Non-handed. Custom lip length at 1/8" increments available |
| Spindles | Designed to break to prevent unlocking or damage to the case |
| Trim | Self-aligning through-bolt trim. Rose (S1) is 2-7/16" Diameter, (S2) is 3 1/2" Diameter. Full plate escutcheon (F1) is 1-15/16" x 8", (F2) is 2-9/16" x 8-1/16" |
| Core | Interchangeable 6 & 7 pin compatible with all other small format interchangeable core housings |
| Mortise Cylinder | Standard 7 pin Interchangeable core housing, compatible with all SFIC cores |
| Non I/C Cylinder/Plug | Standard "C" keyway, compatible with Schlage |
| Masterkeying | Tailored masterkey system set-up and design. Construction cores available |
| Finishes | 605(Bright Brass), 606(Satin Brass), 612(Satin Bronze), 613(Dark Bronze), 625(Bright Chrome), 626(Satin Chrome), 630(Stainless Steel) |
| Certification | UL listed for 3 Hour Fire Rating. ANSI A156.13 Series 1000 Grade 1 Operational |
Case
Size – 4-5/16" x 6" x 1", Armor Front – 1-¼" x 8" x 7/32" Standard. Handing is field reversible without removing case from door. Self-aligning face for beveled doors
Door Thickness
1-3/8" to 2-1/2″ Thick doors
Backsets
2-3/4" Only
Latchbolts
3/4" throw, UL listed, self-adjusting faceplate
Deadbolts
1" Stainless steel throw
Strikes
Curved lip-Non-handed. Custom lip length at 1/8" increments available
Spindles
Designed to break to prevent unlocking or damage to the case
Trim
Self-aligning through-bolt trim. Rose (S1) is 2-7/16" Diameter, (S2) is 3 1/2" Diameter. Full plate escutcheon (F1) is 1-15/16" x 8", (F2) is 2-9/16" x 8-1/16"
Core
Interchangeable 6 & 7 pin compatible with all other small format interchangeable core housings
Mortise Cylinder
Standard 7 pin Interchangeable core housing, compatible with all SFIC cores
Non I/C Cylinder/Plug
Standard "C" keyway, compatible with Schlage
Masterkeying
Tailored masterkey system set-up and design. Construction cores available
Finishes
605(Bright Brass), 606(Satin Brass), 612(Satin Bronze), 613(Dark Bronze), 625(Bright Chrome), 626(Satin Chrome), 630(Stainless Steel)
Certification
UL listed for 3 Hour Fire Rating. ANSI A156.13 Series 1000 Grade 1 Operational