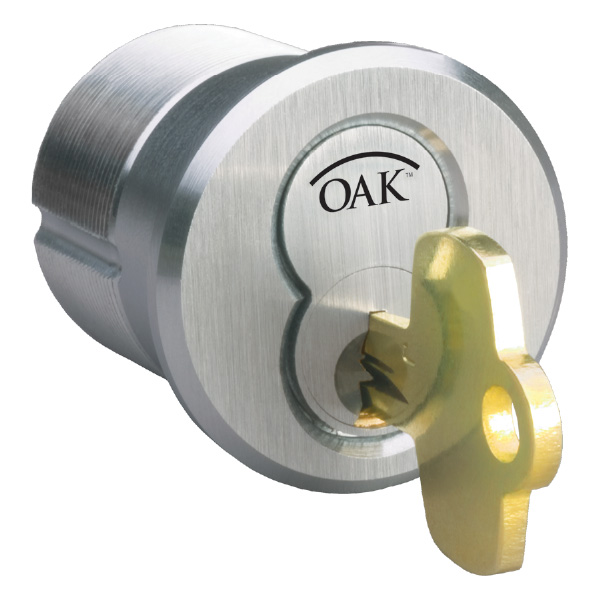 Mortise & Rim
Cylinders
Mortise and rim cylinders can be supplied for Interchangeable core or with standard Non-IC cylinder.

Multiple cam choices ,including industry standard cams for Best®, Corbin/Russwin®, Schlage®, Sargent® and others.

Mortise cylinders available with standard or tapered face.

Mortise cylinder is supplied with side screw for additional security.

Rim cylinder comes standard with a horizontally mounted spindle.

Blocking rings are available in multiple sizes and finishes.

Multiple finishes available.

Uniquely tailored masterkey systems backed by extensive industry experienced system sales, design and support.

5 Year Warranty.
Specifications
| | |
| --- | --- |
| Cylinder Length | Standard Mortise Cylinder 1-3/8", 1-3/4" long. Tapered Head Cylinder is 3/4" long |
| Diameter | Mortise and rim cylinders are 1-5/32" |
| Cam/Spindle | Standard straight cam supplied unless ordered otherwise. Flat spindle supplied with rim cylinders |
| Rings | Rings vary in size from 1/8" to 5/8" long. Specify needed ring size |
| Rim Cylinders | Length is 1-11/32" long. Fits doors 1-1/4" to 3" thick |
| Core Housing | Interchangeable 6 & 7 pin compatible with all other small format interchangeable core housings |
| Cylinder Plug | Standard "C" keyway, compatible with Schlage |
| Masterkeying | Tailored masterkey system set-up and design. Construction cores available |
| Finishes | 605 (Bright Brass), 606 (Satin Brass), 612 (Satin Bronze), 613 (Dark Bronze), 625 (Bright Chrome) and 626 (Satin Chrome) |
Cylinder Length
Standard Mortise Cylinder 1-3/8", 1-3/4" long. Tapered Head Cylinder is 3/4" long
Diameter
Mortise and rim cylinders are 1-5/32"
Cam/Spindle
Standard straight cam supplied unless ordered otherwise. Flat spindle supplied with rim cylinders
Rings
Rings vary in size from 1/8" to 5/8" long. Specify needed ring size
Rim Cylinders
Length is 1-11/32" long. Fits doors 1-1/4" to 3" thick
Core Housing
Interchangeable 6 & 7 pin compatible with all other small format interchangeable core housings
Cylinder Plug
Standard "C" keyway, compatible with Schlage
Masterkeying
Tailored masterkey system set-up and design. Construction cores available
Finishes
605 (Bright Brass), 606 (Satin Brass), 612 (Satin Bronze), 613 (Dark Bronze), 625 (Bright Chrome) and 626 (Satin Chrome)